Ranger Magazine
The Ranger magazine is the leading authority in free range production. Published monthly by the British Free Range Egg Producers Association it is available to members in printed format and digital download. To access back issues you have to be a member of the Association.
To join click 'Join BFREPA' in the menu above.
May 2022
BFREPA started its media campaign with unprecedented success, backed up by videos from members such as Daniel Brown for BBC Breakfast and Sam Mitchell in the regional press explaining why producers were calling for a 40p increase in retail price.

Robert Gooch was interviewed on various media outlets and explained to listeners on Farming Today, ITV and a host of other channels why the retail egg price needed to rise.

Our social media coverage reached over 400,000 readers, with the BFREPA press release appearing in many national and local press.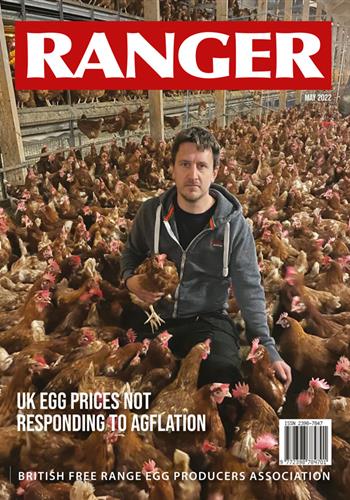 April 2022
It is now just a footnote on the annual accounts but still a reminder of a missed opportunity when the industry had discussions to form a producer-led marketing company and manage a level of control over the success of the free range egg industry for the next 30 years.

BFREM, the British Free Range Egg Marketing company, never came to fruition but is a reminder to us all to take chances when they present themselves. Who knows if that would have been successful, but there is no reason to doubt it would not have emulated the industry's success as a whole and left us in a much stronger negotiating position with retailers than we find ourselves now?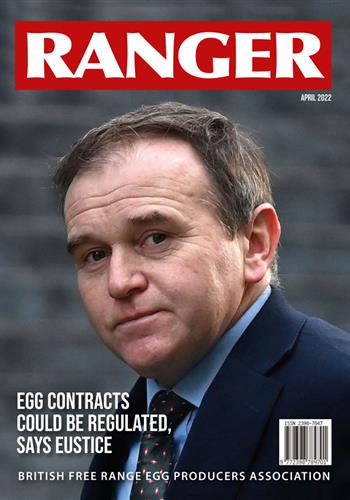 March 2022
It is a sad but undeniable fact that a significant number of free range egg producers are on the brink of financial ruin.

Producers have been convinced into production by overhyped claimed returns and have suffered even more as markets have turned against them. Graphs published in this Ranger demonstrate no margin, just losses, and we are now subsidising the retailers to sell our eggs.